A variety of tailor-made courses are available, from half-day workshops and seminars all the way to a week-long short course and field school that takes place every 2 years at one of the largest impact structures in the world, Sudbury, Ontario.
The Department of Earth Sciences at the University of Western Ontario is home to a collection of nearly 300 meteorites and provides a means for researchers and students to examine and explore planetary materials and processes. We invite you to explore learn more about the collection available at Western.
Check out our resources for educators, from elementary to high school to university level. From inquiry-based activities involving making craters in flour and coco powder, to rock kits that are available for loan, we hopefully have something for you!
The Impact Earth Database strives to provide an up-to-date listing of all confirmed impact craters, hypervelocity impact craters, and impact deposits on Earth. Search and read the various details of the numerous impact features found around the world.
Impact Earth Review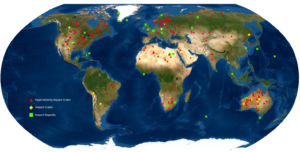 Read an in-depth review of the impact record on Earth as featured in the Impact Earth Database.
Read the Book
Learn all about the science behind the impact cratering through the textbook "Impact Cratering: Processes and Products."
Check out our animation!
Impact craters are scattered across Earth's surface, but meteoroids first face the challenge of passing through Earth's atmosphere, producing impressive shooting stars (meteors) before they even come close to reaching the ground.